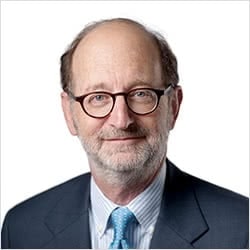 Kenneth Marks
In November 1982 I joined Susman Godfrey & McGowan (later renamed Susman Godfrey) as the fourteenth lawyer in the firm. I became a partner in the firm in January 1987 and remained a partner for twenty-nine years until my departure in April 2016. During my tenure at Susman Godfrey, the firm grew to over 100 lawyers and expanded from a single office in Houston to include offices in New York, Los Angeles, and Seattle.
While at Susman Godfrey, I had a diverse commercial litigation practice. I represented plaintiffs and defendants in federal and state courts across the country and in domestic and international arbitrations. I was counsel to clients in cases brought under federal and state antitrust statutes, federal and state securities laws, federal and state environmental protection acts, federal and state trade disparagement acts and consumer protection acts, and intellectual property statutes. I also represented clients in a wide variety of disputes based on contracts and/or common law torts, including cases based on energy exploration and production agreements, pipeline contracts, oil and gas leases, gas processing agreements, and merger and acquisition agreements.
My practice at Susman Godfrey was balanced between representing plaintiffs and defendants in private cases, in class actions and in so-called "mass actions." I was appointed co-lead counsel on behalf of class action plaintiffs, and I served as defense counsel in class actions. I represented insureds in cases against insurance companies and defended insurance companies in cases brought by their insureds or others. I represented debtors-in-possession and bankruptcy trustees in actions in bankruptcy court and actions brought in federal courts. In a number of cases, I worked in conjunction with counsel handling criminal cases proceeding parallel to civil actions.
I twice served on the Executive Management Committee at Susman Godfrey. I was included numerous times on lists of outstanding lawyers, including Best Lawyers in America, Texas Super Lawyers, Benchmark Local Litigation Stars, and Leaders in Their Field by Chambers.
I currently serve on the Board of Directors of the Houston Area Women's Center and am Chair of the Board of Directors of the Texas Civil Rights Project.
I live in Houston, Texas, with my wife Elena, who is the Chief Executive Officer of the Episcopal Health Foundation. I have three sons.
Education
J.D., University of Texas School of Law, 1981
B.A., Northwestern University, 1978
Economics and Political Science
Judicial Clerkship
Law Clerk to the Honorable Will Garwood, United States Court of Appeals for the Fifth Circuit, 1981-1982
Law Firm Experience
Susman Godfrey LLP, Associate 1982-1986
Susman Godfrey LLP, Partner, 1987-2016